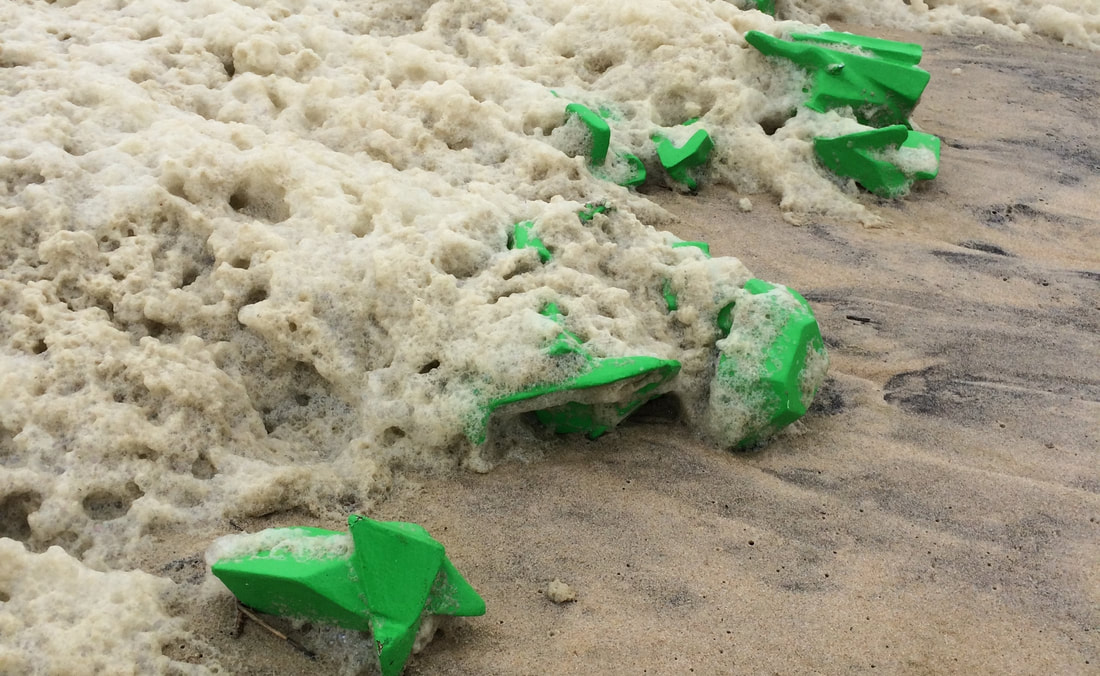 Turbid Tides: Port of Oakland Apparition
Northern California Emerging artist show at MarinMOCA

Using green-screen sand, polystyrene packaging material, and a knowledge of tidal flow and what it brings, the piece reflects on how our continued reliance on natural resources for consumer goods has increased destructive mining practices ––which in turn causes the tides to rise due to fossil fuel related global warming.

The result of this situation will bring a future where a significant portion of the population will live in between high tide events, architecture will be highly mobile, and water will replace rare earth minerals as the main vehicle for our communication needs.

The Gazing Forecast: Conjuring Timescales
The intermingling of the two different time scales involved in this piece ––the video projection of water interacting with the white sculpture (intended to mimic a iceberg), and the time-lapsed background–– are an attempt to bridge the gap between what we consider the immediate weather of a specific place, and the overall climate the place is said to have.


To make any kind of form today that acknowledges that our human-constructed world and the larger natural environment is converging is an attempt to reunify spaces, and it is in these new hybrid forms/spaces where notions of architecture and technology can be revisited and seen as place-making for the future. With this thought in mind, I go about constructing scenarios where through the process of observation one can witness the cumulative impacts that the layering of disparate technologies have had on our experience of the larger natural world


The idea of being able to participate in an evolving system that is open to new modifications and interpretation is key to how I involve myself in making form. If we look at human technology through the broader lens of deep time, then our 20th century achievements (through contemporary prosthetic-like tools) do not look so abnormal. The car is an extension of our legs, and our legs grew out of a place in our backbone where a tail used to be. That was possible because before we were mammals we were fish swimming in water. There is a direct and traceable line of cause and effect that can direct us back in time to these evolution's. From this observation it is not much of a stretch to say that the future of this line is not set in stone; on the contrary, it is surprisingly malleable. This system is hungry for a diversity of ideas and ways of making if it is to remain strong and healthy. It is only through a diversity of options that a future for our world as we know it is possible, and it is through art that these choices can be produced and communicated.





---